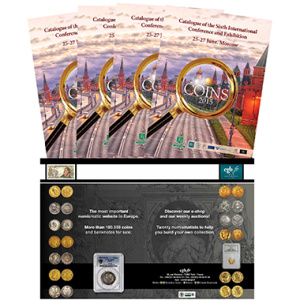 Let all participants and visitors of COINS-2016 know about you! Place an ad in the official catalogue!
1 page – 300 Euro
1/2 page – 170 Euro
Inquiries are welcome until 1 July 2016!
You can also use online and offline advertising opportunities of the Gold Chervonets Magazine, the Russian numismatic magazine which will be inserted into delegate packages and distributed among visitors of COINS.
We have developed special offers of onsite advertising: handing your booklets out from the desk of registration, insertion of booklets into delegates' packages, placement of roll-ups.
We have a number of sponsorship packages which can be also of interest to you!
INFORMATION ABOUT SPONSOR
+7 812 346 50 15 (-16, -17), +7 950 222 58 28 (моб.)
galina@watermark.ru
Galina Grigoreva, PR & Advertising Department