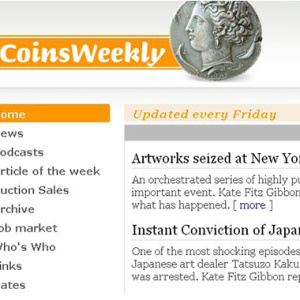 Is our new media partner!
CoinsWeekly is a weekly webzine in English and German dedicated to numismatics in all aspects. It covers all kinds of currency, from ancient to modern, from European to Australian, from coin to bank note, from medal to token. It brings together collectors, dealers, scholars, museums and mints.
CoinsWeekly is really international and based on a net of numismatic friends the founder, Ursula Kampmann, has met over 25 years. Every Thursday CoinsWeekly publishes 6–8 news in English and German, among them numismatic photo reports, book reviews, and all what makes numismatics so exciting.
Additionally you will find auction previews, auction reviews and new coin issues from all over the world. It also features video podcasts on numismatic topics, and a Who is Who presenting prominent people from the world of numismatics. Search in an archive that offers more than 3,500 articles.